I slept fairly well at the hostel, and managed not to wake folks in the dormitory I had to trek through 3 times to get all my gear back to the bike; hands down the most annoying chore when traveling and staying in any kind of town or city environment is the loading/unloading process. 2 dry bags, my 40l duffle, tank bag, helmet, jacket, all have to be taken in every night and schlepped back out the next day, and then 5-10 minutes of fiddling with straps and organizing water bottles, sunglasses, sunscreen, snacks, plug in the chargers, get the bluetooth paired up, etc. I've got it down pretty smoothly at this point, but it still adds a chunk of time spent "fussing" around with things that I'd rather spend on the road.
At least this morning I had some company, chatting while loading the bike with a lovely woman named Amy, from Syracuse, NY by way of Ottawa. She was loading her rental car for a day of hiking, on a vacation after she and her wife finalized their divorce last month. I whole-heartedly endorsed her plan, and we chatted for a while about the northeast US, what she thinks of living in Canada, etc. Then she was off to hike and find herself, while all I was looking for was coffee and wifi, readily available at the Starbucks across the road. The barista told me all about his Roadmaster (a Harley-Davidson, if you didn't know..) and gave me some things to look for along today's ride.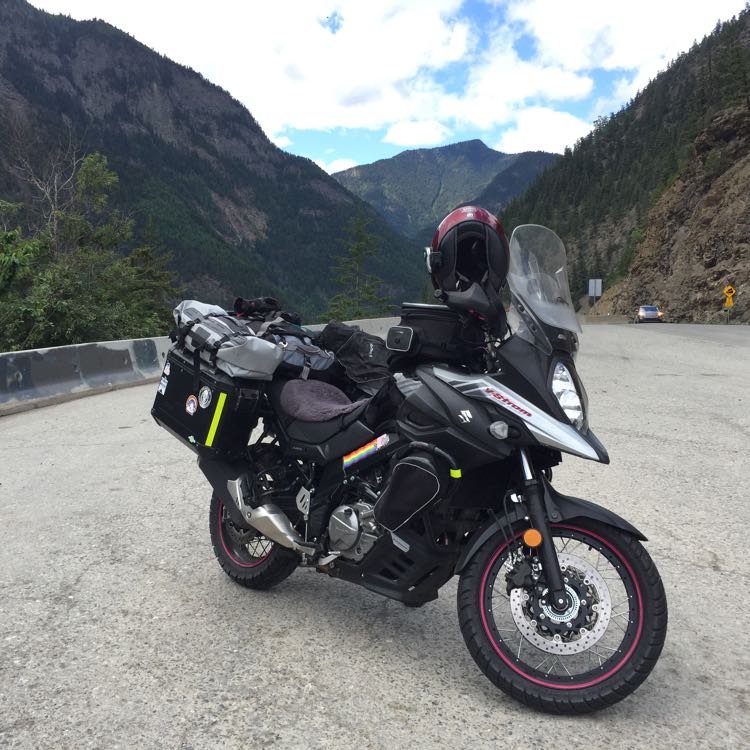 Leaving Squamish and its commercial strip behind, the road widened out to a nearly empty 4 lane, built to accommodate traffic for the 2010 Winter Olympics. I stopped at the Olympic Village (now dubbed "Whistler Village") and ogled briefly the very expensive hotels, condos, shops, and amenities while shrugging on my heavy hoodie under the bike jacket, setting a tone for the day. When I left Squamish, it was 15C.. at Whistler it was 11C… somewhere east of Pemberton it would touch 7C.. and in the Fountain Valley it would hit 24C!
Extreme temperature swings aside, this ride might be my new all-time favorite. Dramatic scenery, a well-maintained 2-lane road with almost no traffic, mixing the best views and road conditions from the Cascade Loop with the dramatic high-alpine terrain of the southern slopes of Mount Rainier, the road just keeps going and going and going.. The 100km stretch between Mt Curie and Lilooet, uninterrupted by a single town, homestead, or amenity, was particular striking.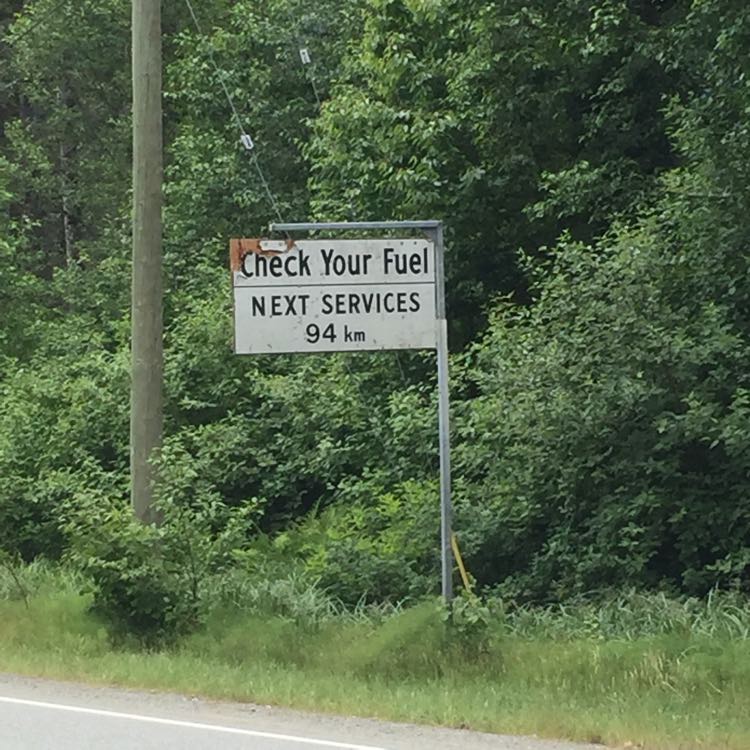 Like most East-West routes starting on or near the coast, you are treated to a wide diversity of biomes, starting with the well-watered evergreen slopes of the Garibaldi Range, think basalt and granite mountains, blocky and chunky crags, snow and cedar, until you come around a corner and you see that you've crossed some invisible line and are now surrounded by ancient limestone, whiteish-yellow boulders, well-tumbled, cliff-walls occasionally stained red by iron deposits, spruces, birch, and poplar claiming the land as theirs. These, in turn, will give way to the arid drylands, filled with sage and scrub pines, sheltered by the rain shadow cast by the massive ranges you just cut through.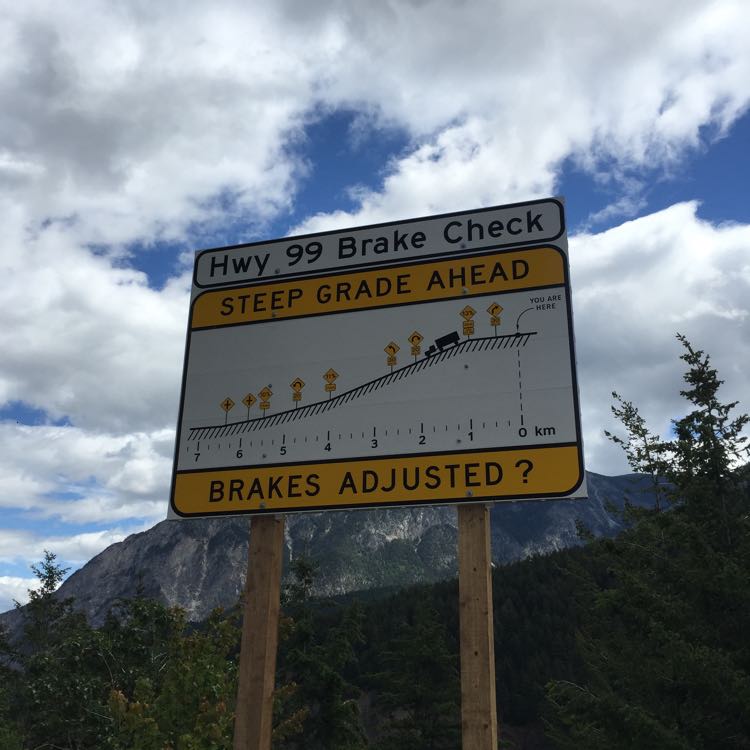 Coming down into Lilooet, BC, I approached a one-lane bridge over the outflow of a hydro dam, and had to stop and wait for 3 young deer, velvet still on their sprouting antlers, to clear the bridge. Maybe those "Watch for deer" signs know what they're talking about?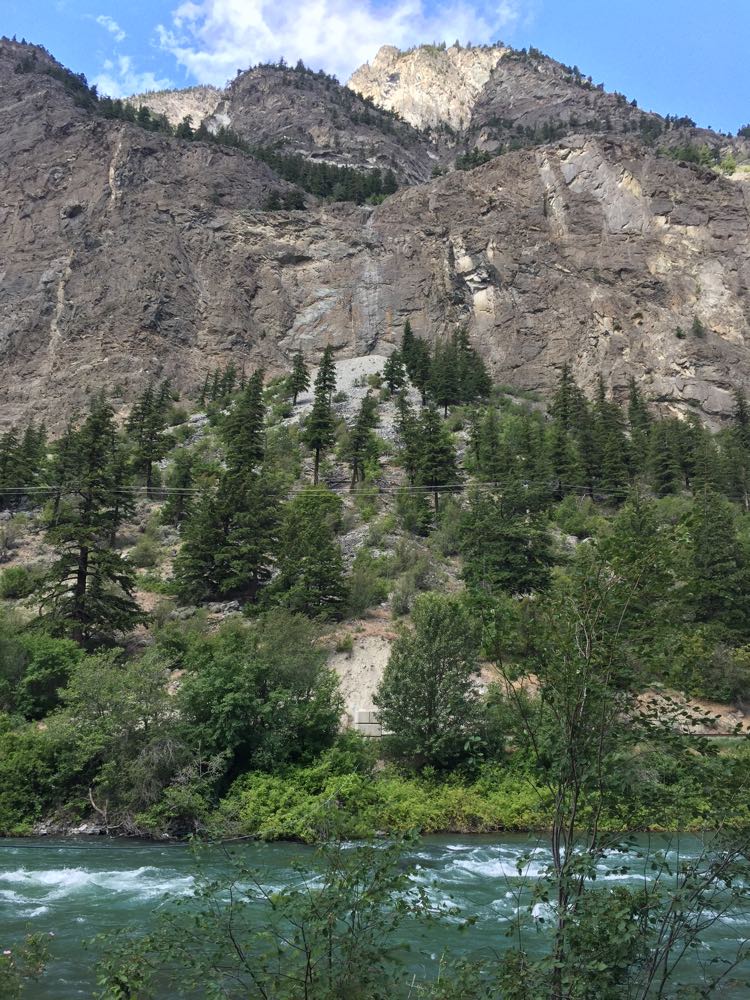 BC-99 eventually ended, prompting me to turn northward on BC-97, a road I will spend the next 5 days of actual travel on. We made friends as the speed limit kicked up to 110km and I made great time, after an afternoon spent puttering at low-gear through the mountains (getting some of the worst mileage I've ever gotten out of the bike, below 30mpg!) I stopped in Clinton, BC, for coffee at a charming local coffeehouse, and treated myself to a maple macchiato because a) maple! and b) its a flavor combination I haven't seen since New Zealand, so why not?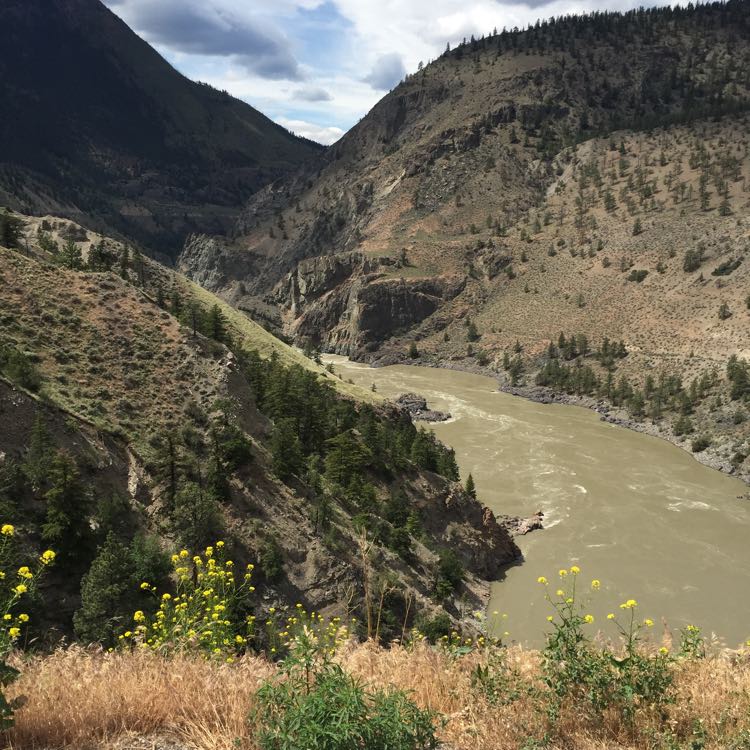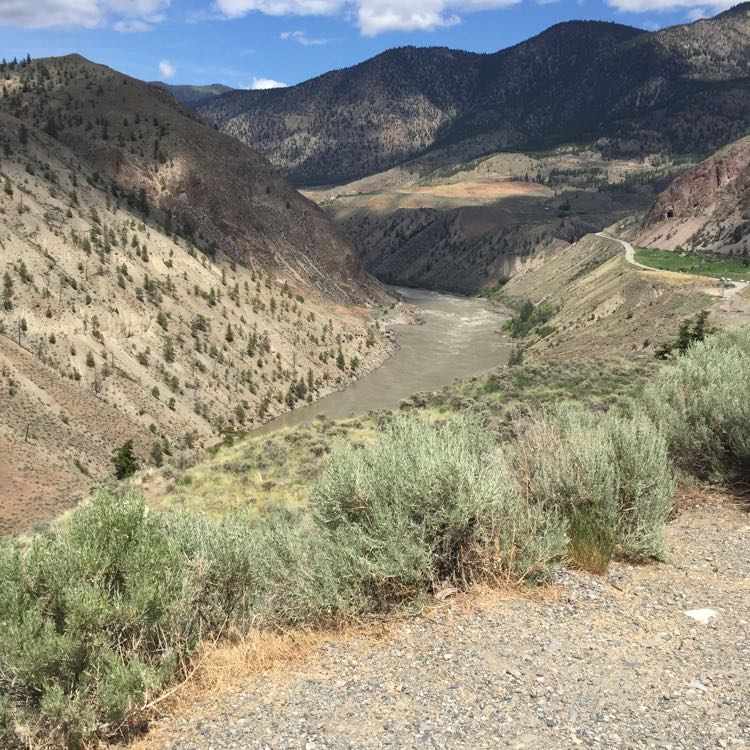 I rolled into 100 Mile House around 4:30, about an hour behind schedule, and stopped at the Tim Horton's for a cup of "coffee" and a donut, it being National Donut Day back home in the USA. I got into a conversation, as I always do, with an older gentleman, Ray, and his wife, Karen, who are Harley riders currently planning their last trip (as Ray put it, "I've got a bad ticket and my good lung is full of asbestos.. but I feel great!") Ray has done Iron Butt competitions multiple times, and several years ago did Key West to Prudhoe Bay in 2.5 months. He's been all over the western US, and gave me the sage advice to "always bring a beach umbrella!" According to Ray, its good not just for rain and sun, but if it gets really cold you can huddle under it with the engine running and warm up!
Ray is a retired steel worker, and claims not only to have worked on most of the steel bridged across the Yukon, but that scrap steel from "Galloping Gertie" in Tacoma (google it) was what they used.. it is, as they say, a story too good to check!
My hosts tonight are Don and Linda, who run a 150-acre ranch. I rolled up and immediately got into a conversation about motorcycles, gardening, sheep, Trump (naturally) and the finer points of working for a German company ("Wait, you get how much vacation?!") 2 glasses of wine disappeared, and I was sent off to their favorite dinner spot for a well-deserved steak and salad; I eat really poorly on the road, lots of coffee, beef jerky, and gas station sandwiches.
Tomorrow I'm bound for Prince George, BC, where I'll be staying through next week. On Monday I'll be getting The Morrigan's 11k mile service done at what I hope is an actual motorcycle garage. They claim to be a Suzuki motorcycle dealer, the only one listed by Suzuki, but seem more like an RV and boat dealer? We'll see.. its "only" an oil and air filter change, and the guy on the phone seemed to know what he was talking about (and was charmed that I, as an American, pronounce the letter Z as "zed")
Deer Next N km signs: 5
Bear Next N km signs: 3
Moose Next N km signs: 2
Actual Wildlife seen: 3 deer
Miles today: 234.5