Grey clouds can't deter me, no matter what! Cold and a bit dark, low, thick clouds are just Seattle's way of giving me a bon voyage hug.
A very dark, dreary hug, but I'll take it.
I managed to get some sleep, after packing a few things I had forgotten when I left for Portland, OR last week, and stopped in at Wayward Coffeehouse for morning coffee with Bronwyn. 2 large cups fortified me for the first day of zooming around, and a small gift from her made my day, setting the tone for the start of a grand adventure!
I couldn't just leave, of course. First a few errands, the mort important of which was getting new tires on The Morrigan. I was still rocking the stock OEM Battlewings, and they probably had another 1,000 miles or so in them, but why push it and get stuck in the Yukon with bald tires and 5,000 more miles to go? Seattle Cycle Center took care of me, fitting a pair of Shinko 705s on; they've always been welcoming and helpful to me, and today was no exception. They gave me a great deal on the tires and the service, cleaned up the chain and sprockets, and gave the bike a general scan for any major issues, and were done half an hour early!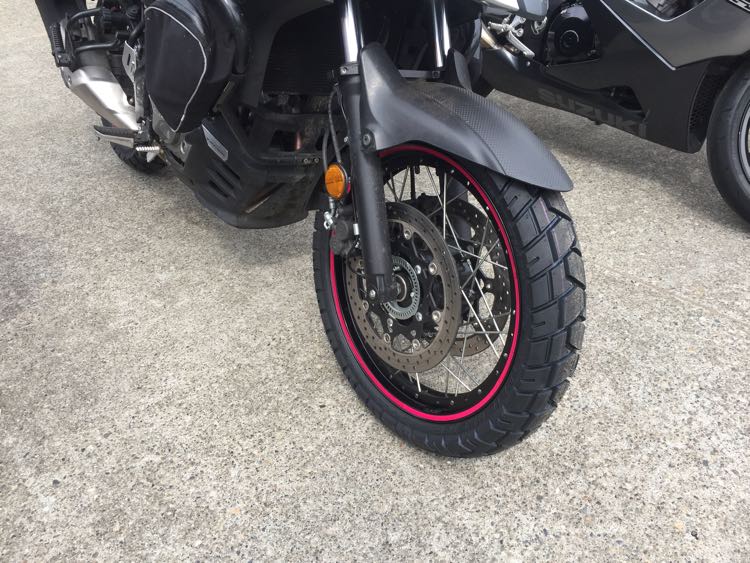 The Shinko 705s are quite a change from the OEM tires. They're a 70/30 tire; with a bit more of an aggressive tread, they're intended for 70% on-road use and 30% off-road use, where the OEM tires were a 90/10 tire. The Shinkos have a bit more of a rumble going down the highway, and while I didn't experience any slipping, I didn't feel quite as stick to the road somehow. They're also new and not entirely squared off from thousands of miles of highway, so as I turn the motorcycle, they have a smoother feeling as I roll into the turn, which is good, just… different. Its almost like putting on your summer sandals for the first time after a long winter of wearing boots, or the first jog you take in new running shoes. You'd simply grown accustomed the old-and-broken feeling, so the new-and-perfect feeling is "off".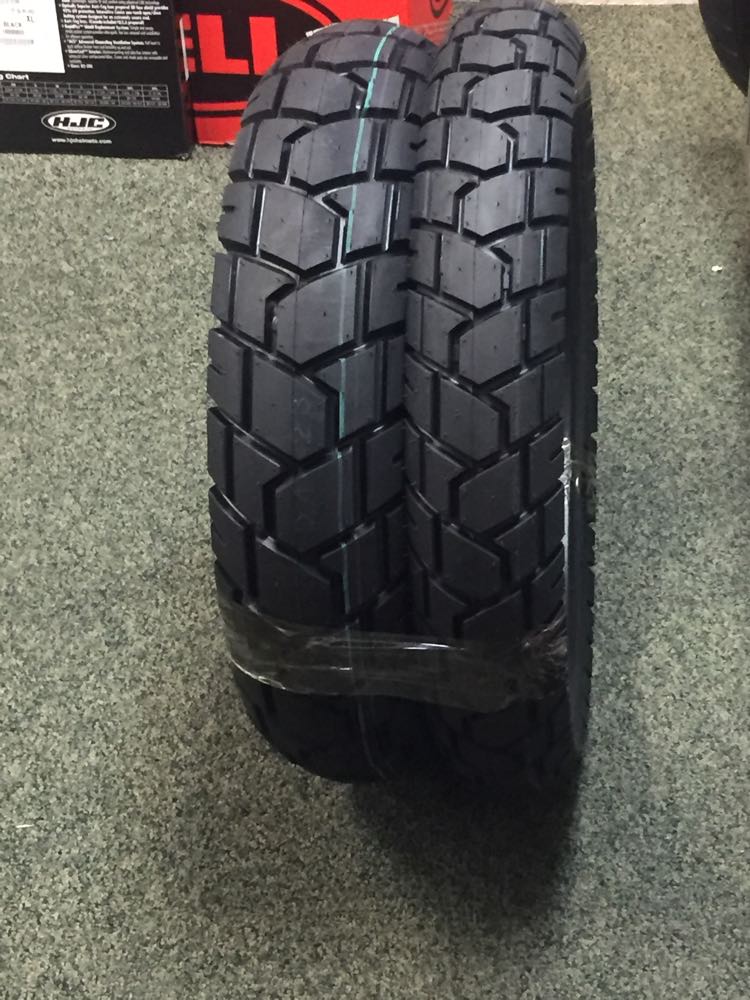 Enough tire nerdery, time to hit the road! …except first, I had to pick up tank grip pads at AltRider, and a prescription from the drug store, and then a stop home… 12 noon and I'm finally getting on the highway… 🙄
Highway riding, or as many motorcyclists call it, "riding the slab," is terrifying the first time you do it. You are suddenly KEENLY aware of being exposed to giant machines operated by people who are also fiddling with the radio, yelling at their kids, applying makeup, eating a sandwich, and playing the latest version of Angry Birds.. and they all hate you and are trying to kill you! No other motorcycling environment reminds you how fragile the human body is, how exposed you are to the weather, and how important road conditions and the proper functioning of the machine are to your wellbeing. Once you acclimate, of course, its just like riding any other road, with big wide lanes, great signage, predictable turns, etc. It is easy mode.
It is also mind-numbingly boring.
I slabbed north on I-5, and truly nothing happened. I took it relatively easy and just sat in the car pool lane the entire way, the weather was fine, minimal wind, easy traffic.. I stopped in Mt Vernon, WA for lunch around 1pm. I hadn't been into their little downtown in a few years, not since a comedy of errors pushed me to getting my TSA PreCheck interview scheduled there, 60 miles outside the city. They seem to be going through a bit of a downtown revitalization, with every store front open for business, fresh pavement on the streets, flowers in every pot. An actually interesting assortment of small businesses, brew pubs, wine bars, etc so of course I pick a pub I haven't heard of because I'm on a motorcycle trip I have to have a burger, I'm a big tough motorcyclist gimme a warm beer and a cold shoulder oh wait you have lovely organic, locally-sourced potato-leek soup, with a half-sandwich of grilled sheep cheddar and whole wheat bread from the next door bakery…
Oh Pacific Northwest.. you're sometimes so easy to mock, especially when you live up to your own stereotypes…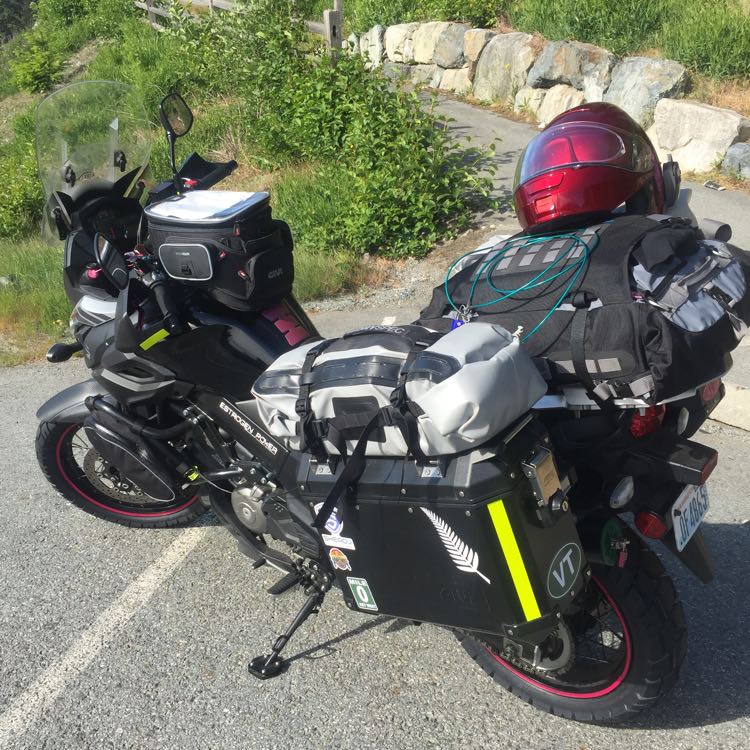 The border, an hour later, was the usual crawl. I avoided the Peace Arch crossing on I-5, a scenic crossing with a water view, a park for kids to run around in, etc, and opted for the more workaday WA-542 crossing a mile or two east. Digital informational signs promised a 10 minute wait compared to a 35 minute wait at the Peace Arch. I knew it was lying to me, it would be more than 10 minutes, but knew from experience that almost any crossing is faster than the Peace Arch, so I queue up for the 45-minute crawl past duty free stores. I met a Polish guy riding his Yamaha Shadow back to Vancouver after his shift at a lumber yard south of the border. It was a story that didn't quite sound kosher, but he wasn't the kind of guy who seemed like he wanted to divulge details about his work-life balance or tax situation, so I didn't inquire for details. I also had the usual smile-nod-"where you off to?" inquiries from motorists, and one fellow got the prize for opening with "You know, they make bigger bikes.. you should get one, if you're going to haul so much stuff!" I smiled and managed to not tell him exactly how light I was packed, compared to many of the folks that ride to Alaska.
The crossing itself was uneventful when finally accomplished, The guard gave me the hardest time I've ever had entering the country, acting incredulous, disbelieving that a solo woman would be riding to Alaska. "You're riding with other women? Where are they? You don't know them? You know its a long trip, right? How many days do you think it will be? Its so far for a lady, you know that, right?" I just smiled and answered his questions and handed over my passport when asked; it wasn't offensive, I know what he's doing, asking variations of the same question to trip up people who are lying. Whatever, all I want to hear is "Welcome to Canada" which I got in due course. I flip the bike's display to metric, and zoom off!
…to Vancouver, BC's version of rush hour. Luckily I was going against traffic, so it was fairly easy, only tiny amount of stop-n-go. Crossing into North Vancouver was odd, never having been on this side of the city, I didn't realize it went from "dense urban core of a coastal city" to "dramatic windy road along a fjord" but I'm not complaining! The Sea to Sky Highway from Vancouver to Squamish, my destination, is a gorgeous road, winding along the inlet, signs warning me of deer and bear start appearing, reminding me that the population density is rapidly falling behind me.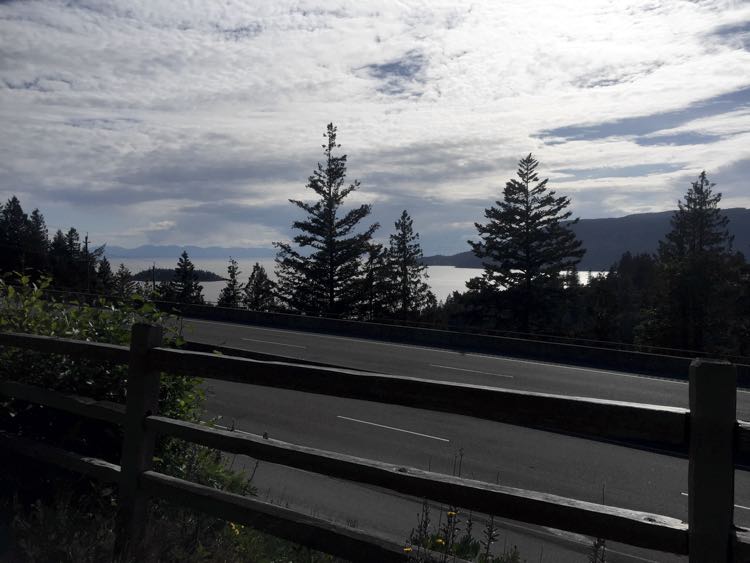 Squamish snuck up on me. A small, wealthy town plopped at the end of the fjord, its long been a destination for rock climbers and outdoorsy youths, and the dramatic rock walls surrounding the town show you why. With its well-heeled speciality shops, guides and outfitters, and pricy-looking homes perched above, it reminds me a bit of Sedona, AZ.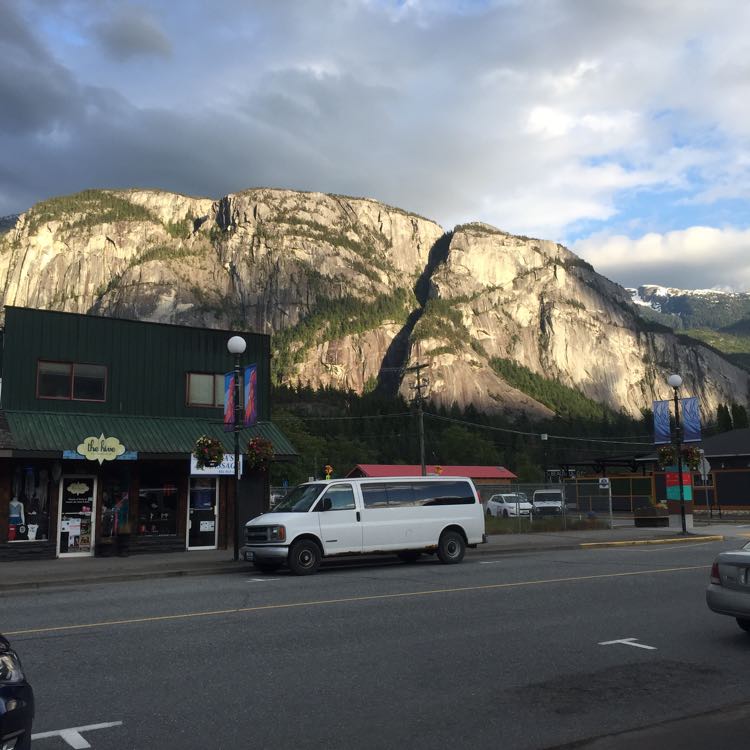 My hostel is comfortable, clean, and full of very tan and healthy young folk, and of course I get the tour from the desk guy who seems to think I've never been in a hostel before. Charming young man, looking out for his elders like that!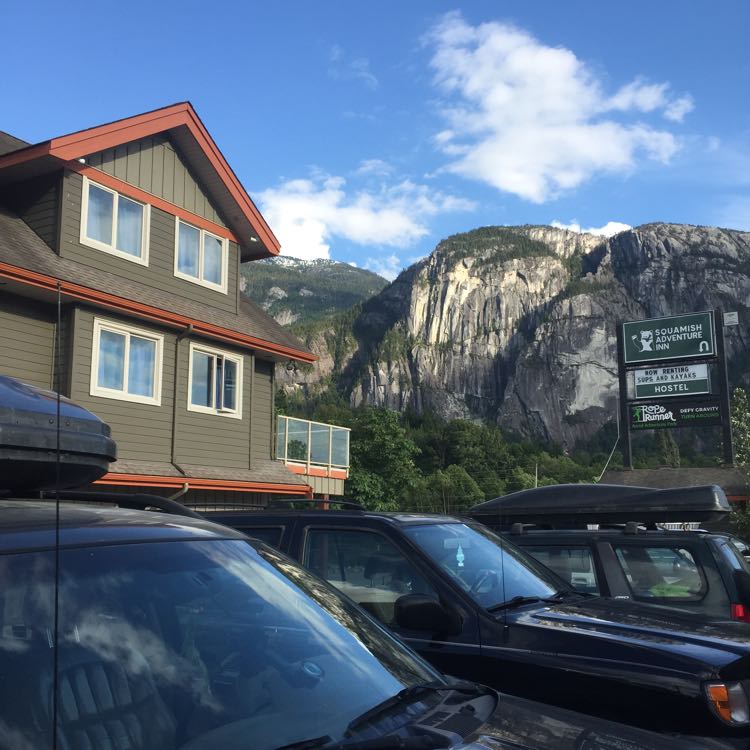 I bop into town and FINALLY I'm going to get my burger and PBR in a can nope of course not I got a pulled-pork o'boy with organic slaw and a side salad and a local brewery's grapefruit amber because I'm just that kind of fancy today, apparently. Rode around town, did some donuts in a gravel parking lot to try out the tires, did some shopping, and asleep by 11pm. A perfect day!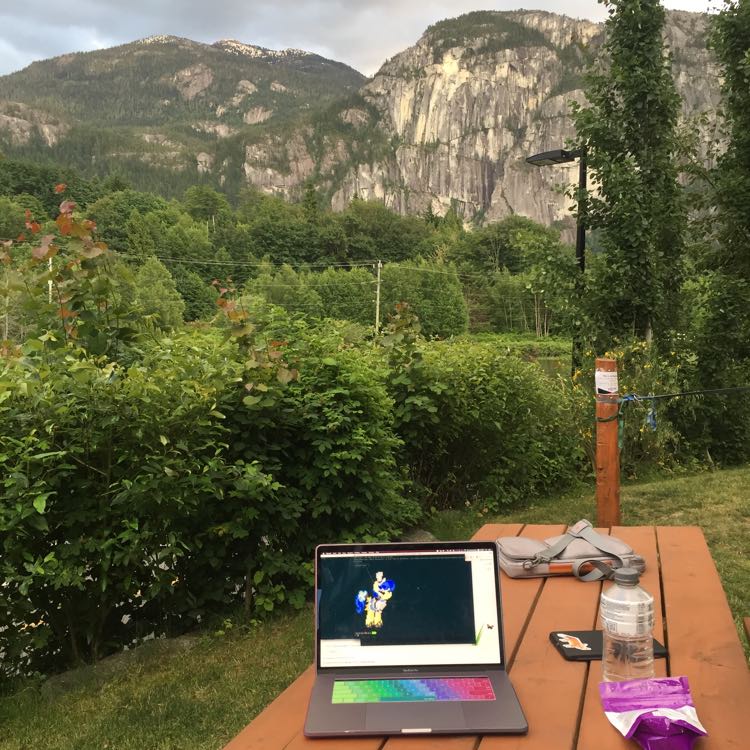 Deer Next N km signs: 5
Bear Next N km signs: 2
Actual Deer or Bears: 0
Miles today: 190.6