No apologies for 2020 absence - I had to cancel attending a number of rallies, but did still do a number of Iron Butt rides, so I was still on my "training plan" as it were, and had one or two motorcycle trips.. but no blogging. 2020 - a year like no other.
One of the ones I had to skip was the Heart of Texas rally, so when 2021 signups opened up on January 1, I entered it as an act of optimism - either I'd have a vaccination, or the event could have my $200 so it could stick around another year. Luckily for me, I got the limited edition J&J jab exactly 2 weeks before leaving for Texas, so was able to attend. Along the way I saw family, picked up some bonus locations for the Butt Lite GT, and rode a Bun Burner - 1500 miles in 36 hours. I actually ended up riding around 1750 miles in 40 hours before, and if I wasn't already knackered I could've stretched it to a Saddle Sore 2000, but just didn't have any gas in the tank (heck, I hadn't planned on the Bun Burner in the first place!)
"So.. it's like Sturgis?"
Forget what you think of as a "rally" – I know you're thinking about that set of Harley riders, for who "rally" means "hang out and wear your costumes and drink and bleat about freedom in Sturgis once a year.."
ahem
For long-distance riders, a rally is an endurance event akin to a scavenger hunt, that tests not only your endurance at riding a motorcycle but your ability to plan and execute a plan to ride of WHERE you're going. Rallies are time-limited affairs where you attempt to "collect" bonuses by visiting a location and usually taking a photo, collecting a small item, or solving a puzzle that requires information you can only access in that specific spot. Different locations are worth varying amounts of points, usually based on how difficult they are to get to, whether due to distance from start, road/traffic conditions near the location, or there being a window of time when, say, a park or museum is open.
Before the start of the event, you're usually given a "rally book" that contains all the information. This is mine from last week — it's a fancy one. Often, it's a PDF on a thumb drive.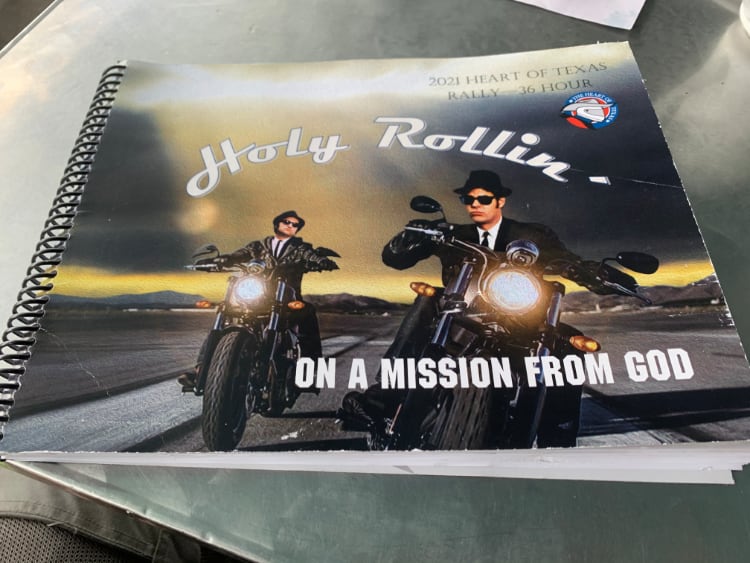 The book contains the list of bonuses, along with other info. Here's what a typical location looks like: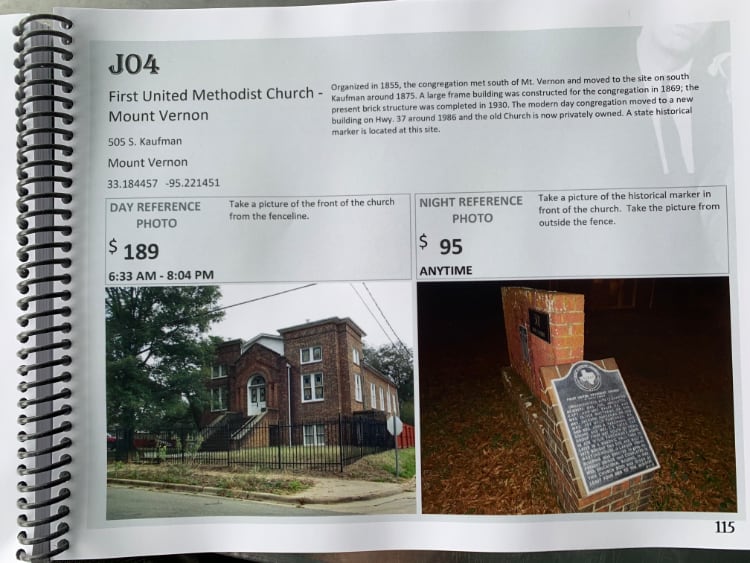 For this rally, we received more points for visiting these locations during daylight hours (to encourage resting!) There's also often VERY specific instructions on what you're to take a photo of in order to claim the bonus. Scorers are VERY strict about this!
At the top, there's also a letter/number designation. This is important because it isn't just about running around "tagging" these locations.. you have to figure out WHICH ones to go to, by assembling combos. In my rally last summer, bonuses were in categories of Surf, Turf, Beverage, and Dessert, and HUGE combo points could be earned for assembling different "meals"
For this rally, we were to use the letters (in this case "J") to spell out the names of books of the Bible…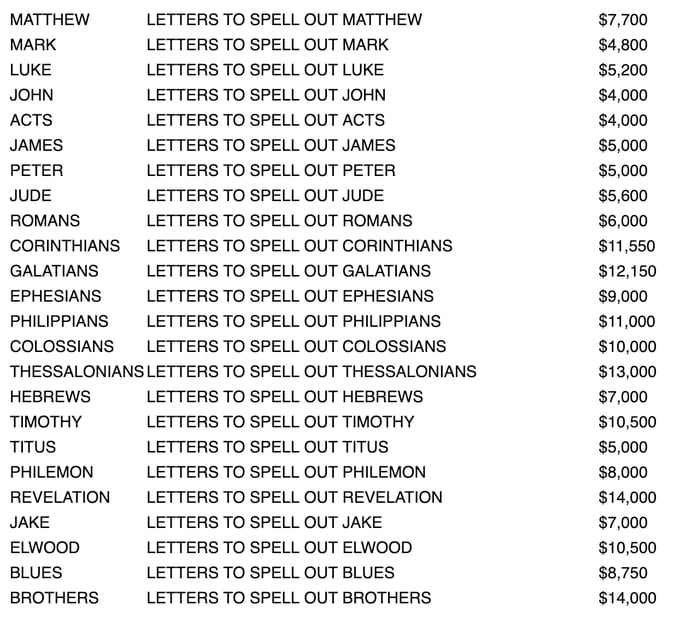 Now, you'll notice that here again, the value of the individual bonus is only $189, but the bonuses are worth THOUSANDS.. so it's a puzzle to solve. What is the most efficient route that scores you the most number of points, AND is a ride that is safe and one that you can do?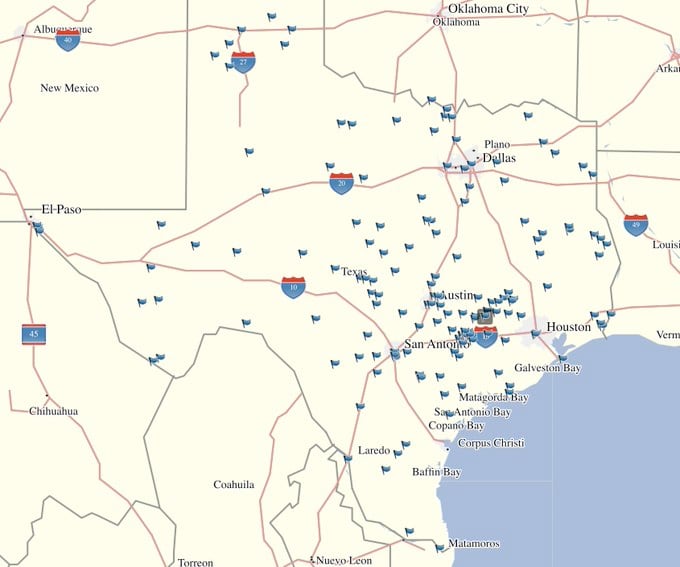 Of course, they're not equally distributed.. there were 16 As, and only 3 Bs, for example.. so you have to really understand it not as a Traveling Salesman problem, but a stemming/routing problem.
Oh, so how do you prove you were at a place? With your "rally flag" of course.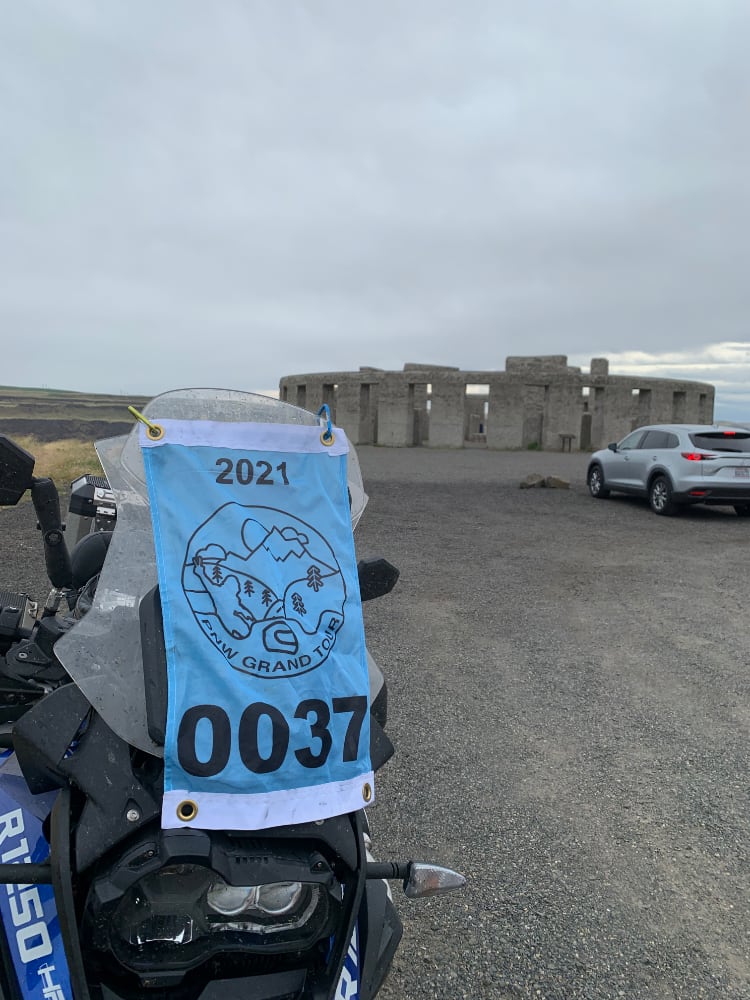 Since this one was Blues Brothers themed, instead of a "towel" style flag, we had one that looked like a vinyl record!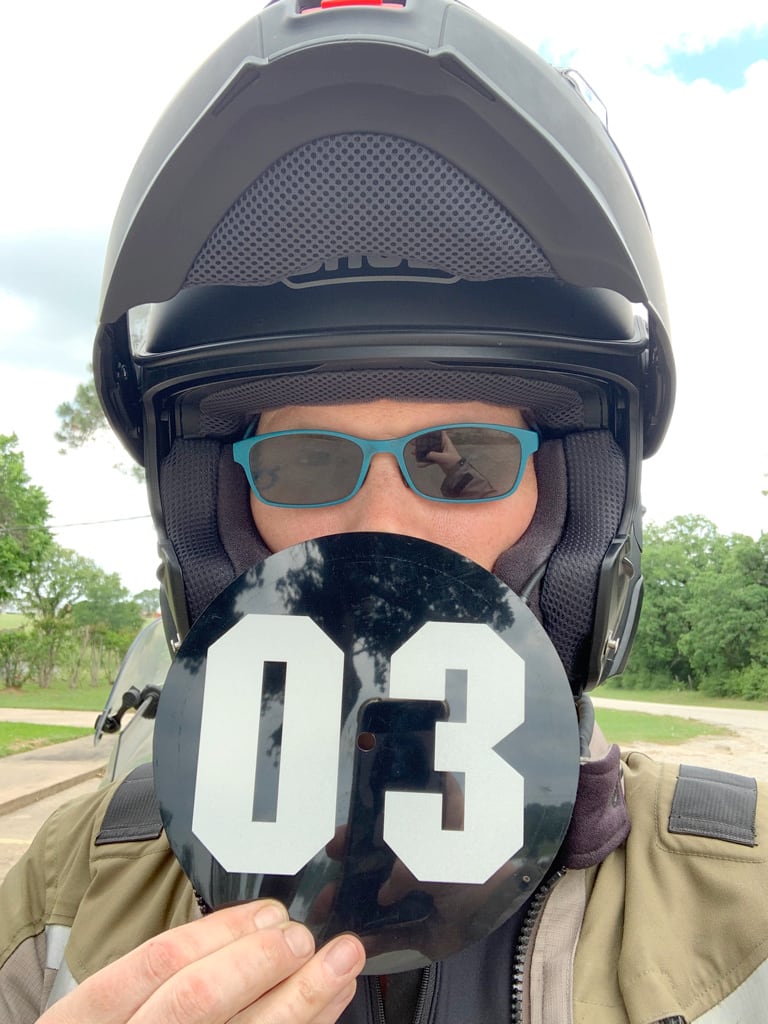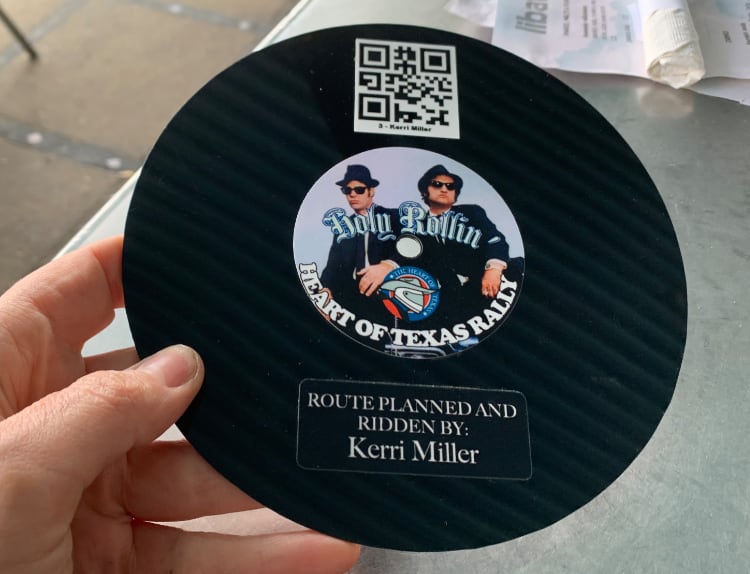 I really wanted to claim the ELWOOD bonus.. but there were only 3 "W" locations (and you could only use a letter from a given location once - if you needed 2 "O"s, you had to get 2 different "O" locations)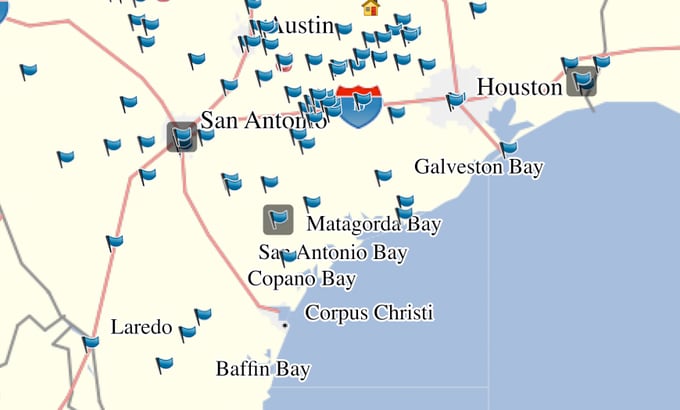 You didn't have to collect the letters in order, but I saw that once I was done spelling that word, I was going to be in San Antonio… right next to the ONLY "Y" location.. and the only bonus that used a Y was TIMOTHY, and the end of that one was near what I'd need for JAKE..
I picked bonuses initially by dividing the total points by the number of letters I'd need to spell it - it's about point efficiency, as each bonus requires SOME amount of time to ride to, and then you eat up time getting off the bike, taking a photo, emailing it to the scorer.
My final route looked something like this.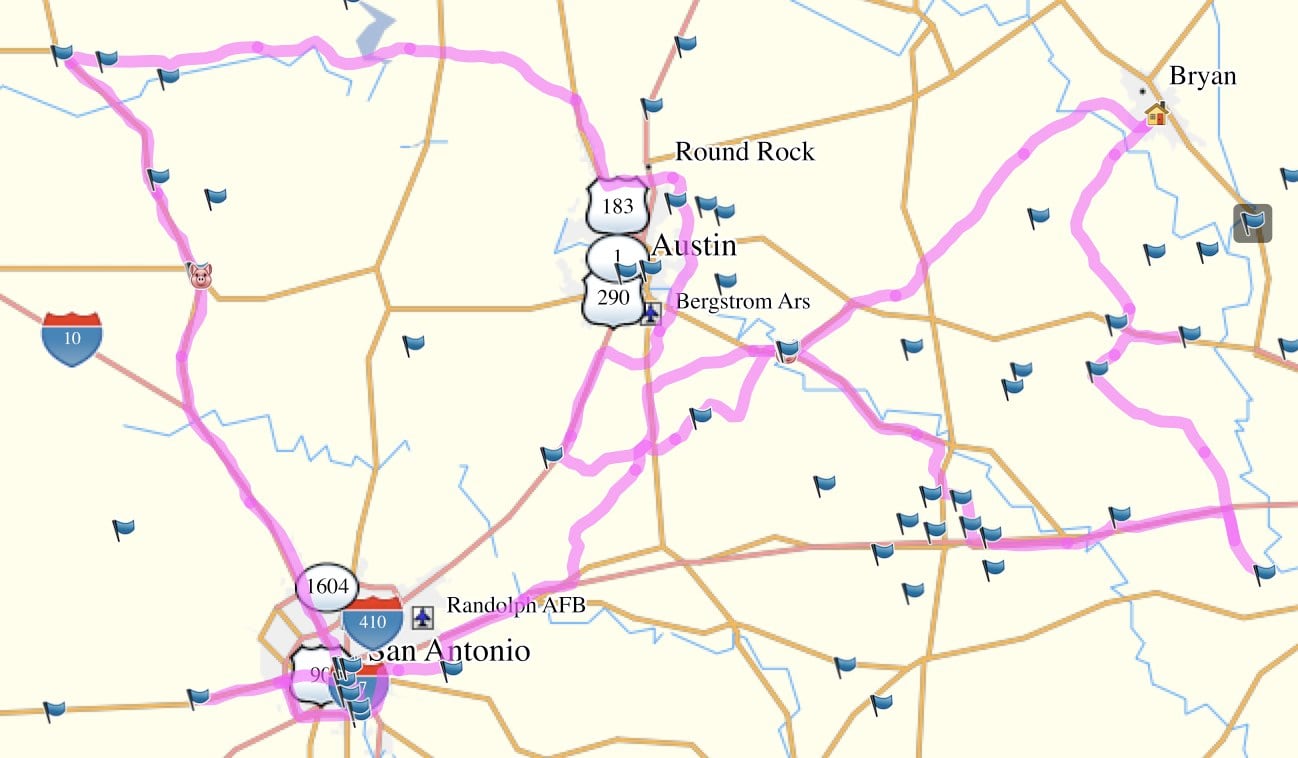 I schedule 10 minutes at each bonus (even though I can do it in like, 5) so I'd have plenty of extra time for potty breaks, gas stops, hiding from thunderstorms in drive throughs, etc.. This route came in a 840 miles, 16h22m of riding. This gave me PLENTY of time for my meal and rest bonuses, because again - it isn't about who can ride like a maniac for 36 hours straight, but who can be smart and efficient.
This gave me PLENTY of time for my meal and rest bonuses, because again - it isn't about who can ride like a maniac for 36 hours straight, but who can be smart and efficient. The organizers encouraged this by charging us $8 for every mile that we rode; so for 840 miles, I would pay a penalty of $6720. You earned this back by resting - you had to take a minimum 5 hour break somewhere, and you earned $2.50/min (up to 10 hours maximum, of $1500)
Well that's not a good deal.. but you could increase the value of what you earned per minute of rest by eating at one of 95 different (but specific) classic Texan dives - BBQs, diners, cafes, etc. 1 meal increased it to $5/min, 2 increased it to $10/min. You had to sit there for at least 45 minutes, and provide a receipt that had something more than a beverage.. they want you OFF THE BIKE eating something and chilling out.. safety, people. Safety.
This means that scoring is really structured here to have to take 11.5 hours of "not moving" time.. so beyond point efficiency, you really only have 24.5 hours of "moving" time, and you also have to be efficient with your miles.
You starting to see why I love this sport? It's not just "are you good at riding" but can you solve puzzles, can you understand trade offs, can you manage the moment-to-moment of juggling all these demands… Another aspect of this, that I hinted at earlier, was the very specific instructions on what you need to claim a bonus - a specific angle, a marker on the side of the church but not the entire church, your bike has to be completely in frame. We also have really meticulous paperwork - if I claim a location (via a custom app or email) but I make a mistake, I can correct it UNTIL I claim another bonus, at which point that mistake is locked in. An unofficial motto is "You get points for reading comprehension" which is really a nice way of saying "RTFM" - scorers have the final say, and while they want you to do well and succeed, it really takes special circumstances to get an exception to the rules.
For example, one bonus I photographed just minutes before the end of Day 1, but I had really bad cell coverage, and a thunderstorm was moving in, so I rode to a safe, covered location, submitted the claim, then texted my scorer to explain why it was late. They allowed it.
Anyways… That's my story. In the next post, I'll walk through the actual ride itself!