Here's a little tip from me: when sleeping with an eye mask, don't jerk it off in the morning, on the off-chance that the morning sun is shining at full intensity onto your face.
I slept in, after 2 nights of camping, and finally got up and moving around 7am. I had to be in Stewart by 6pm, so had lots of time. I took a shower in the open-air, gravity-fed shower, making sure the loons and moose in the lake got a good show.
South of Jade City, The Cassiar drives straight through dense pine forests, the ground orange from fallen needles and the thin, sandy soil. Each little lake you pass has a single cabin perched on it; I could live here, except for the lack of internet.. maybe I'll just rent first. 🤔
Topped up the tank 130km south, at Dease Lake. Chatted with a GS guy from Fresno on his way to Tuktoyaktuk (as all the GS riders heading north seem to be..) and a retired guy on an 1200R. As I was leaving, a woman in her 50s pulled up on some kind of Honda step-through; I hesitate to call it a scooter, but it was the size of a Bergman with the stylings of a Spree, so I don't even know what it was. I should look it up.
20 km south of Dease Lake, the last of the telephone poles disappears and the first of the gravel breaks from construction began; the road was otherwise lovely, following an old rail line that was laid down on top of the original trapper/miner route. I pulled off at one likely spot to take some photos and the damn FI light popped back on; I swear it has something to do with me revving high in low gears!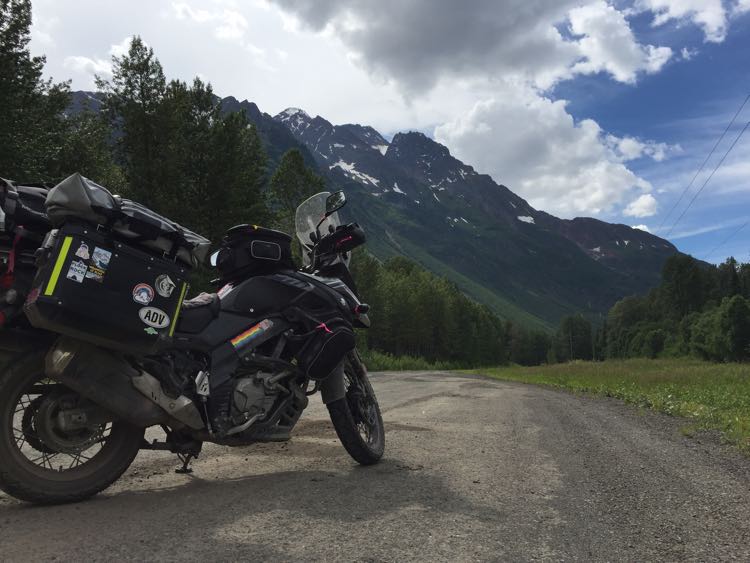 Little traffic on the road, really; tractor trailers mostly, making deliveries to Dease Lake to support the mining operations. I spotted a number of gold mines, but didn't stop. This section was pretty empty.
Gassed up in Iskut, a small native community that has a gas station, a road maintenance barn, and a hockey arena. Chatted with some guys from Florida and Tennessee, who had 5 matching airstream rental trailers and matching wives, all heading to Alaska. They wanted to tell me all about their Harleys, so I listened politely while feeding The Morrigan.
South of Iskut, the landscape… well, it softens, as the pine and spruce give way to ash, poplar, cottonwood, and maples, soon the light greens choke out the darker green of the evergreens, and we're winding through low mountain passes and tight valleys, past a few hydro dams, following what looks like a recently built high-tension power line (I looked it up - completed in 2014) all the way to the Bell2Lodge, a heliskiing lodge that is otherwise in the middle of 120km of nothing along this road. I tried to talk to a pair of guys on DR650s but they were too ADV for me — as usual, they just wanted to tell me about their adventures and had zero interest in listening to me. It keeps happening, these ADV guys just seem so insecure they have to brag about the size of their… adventures.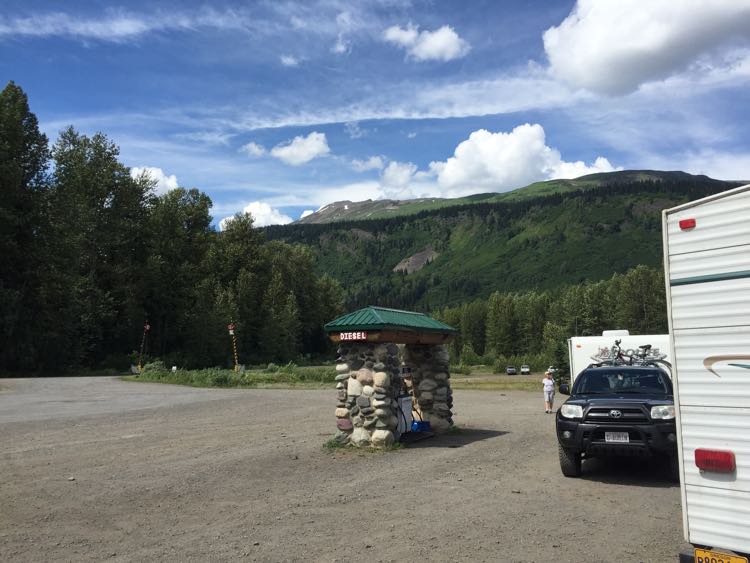 Oh well… I had a coffee from the lodge and a snack lunch on the patio, and got back on the road, which now has a center stripe, so you KNOW we're getting closer to civilization! An hour and a half later, I blow past Meziadin Junction and take the BC-37A spur road to Stewart, a great section of road, in 28C heat. Canada's northernmost ice-free port, it is a tiny ramshackle town of 500. My AirBnB is a room in the old hotel, above the ice cream parlor, where everything is worn and creaks, but I love it - a giant comfy bed and endless hot water!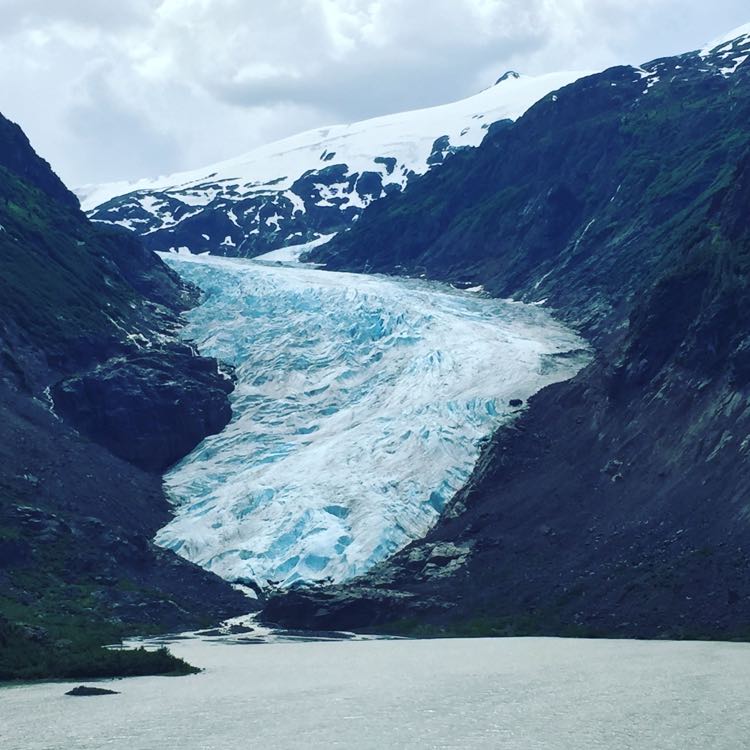 Once settled, I unload the bike and ride through downtown, crossing the border into Hyder, AK, which is the southern-most point in Alaska that you can drive to! A tiny little ghost town of barely 50 souls, it has 2 bars, a post office, and 3 sad little gift shops.. and not much else. I went up the road to the Tsongas National Forest, where there is a bear viewing platform, but the salmon aren't quite running yet; Ranger Mike, a chain-smoking, mountain-man looking guy in an ill-fitting khaki and green uniform, says it'll be a couple more weeks before the run starts this year, so I head back down the road into Hyder, startling 8 bald eagles that were eating something in the grass by the side of the road. I crossed back into Canada, having to produce my passport.. which is ridiculously weird, since I just passed through here like an hour ago, and there's only one road in or out of Hyder, and there's nothing at all to actually buy/smuggle out of there.. but still, we must follow protocol!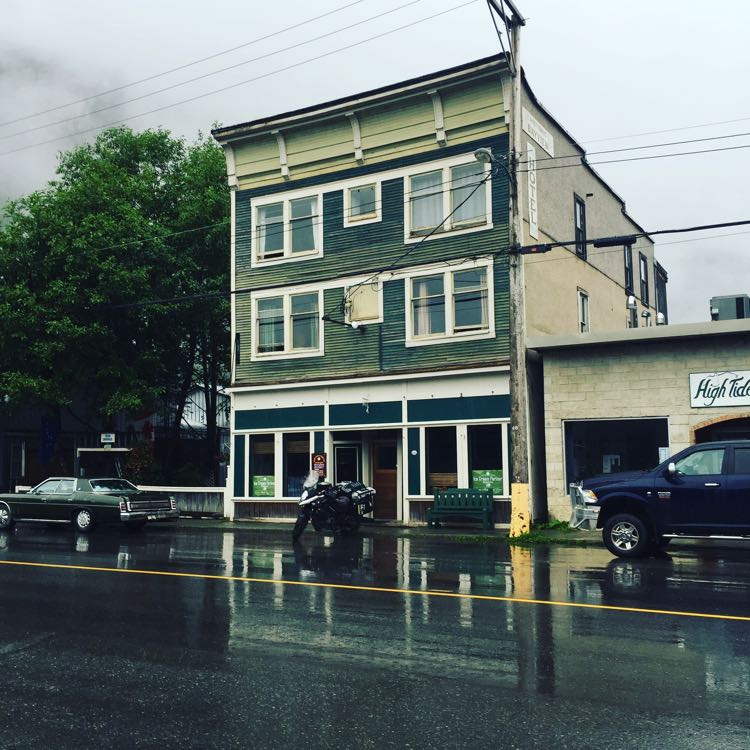 Tomorrow I head to Prince Rupert, BC, where I'll be staying at a hostel for a couple days, until I catch the day ferry to Port Hardy on Vancouver Island on the 8th.
Miles today: 315.0 miles